Recording A Live Show at a Gig
How many times have you played, or even just been to, a great live show that you wished had been recorded or filmed? Well now, it's not only possible, it's affordable, and it can be done ANYWHERE.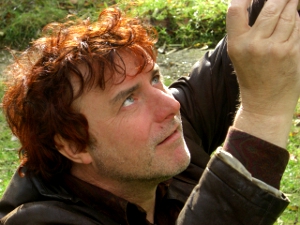 Martyn Baker had the idea of using multiple cameras to record the visuals of live music, from watching what the camera operators & vision mixers were doing, when he was working as a sound freelance on TV news broadcasts at Aljazeera and BBC News. Typically, even though there's often just one newsreader presenting the news at a desk, or occasionally standing and talking to a video image, there can be 6 or more  cameras in use!
This gives much more interest to the programme, and prevents it from becoming visually boring. So obviously this approach will have even more impact when presenting something as interesting as music! Because cameras on the stage can be seen by other cameras, it was decided to use micro HD ones there, to be as unobtrusive and hidden from each other as possible.
All of the multiple sound sources at the show are split three-ways, so that the recording, musician's monitors, and live sound can all be independently multitracked or mixed. On the subject of monitors, yougig recommend the use of our new KARSECT in- ear-monitors (I.E.M.'s), which are just like listening to your live show on an ipod, with ear-buds. In this way you get as close to studio conditions as possible, and we get a better live recording for you, than with the use of traditional wedge stage-monitors. If you play purely acoustically, then of course you probably won't need monitors anyway.
How yougig can help your career
The music business is still changing fast. The digital revolution that started with the invention of the CD has meant that recorded music can now be easily copied and shared. Most record companies have tried (and failed) to prevent this. Recording revenues for music artists have started to dry up, and just about every musician is having to find new ways to make a living from their craft. Just making a recording and expecting to make enough money out of that alone is increasingly unlikely, but live performances are a key way of engaging with audiences and making a living out of performing music.
The trouble is that your audience is limited to the people who are actually there on the night.  What yougig can do is vastly increase the potential size of your audience by professionally recording and/or streaming your live performances using a Pro Tools 24-track mobile recording system and up to 12, full HD video cameras.  Your entire performance can then be mixed and edited at will to promote your music to a global audience.  We can provide you with a complete package, from live performance recording to mixing, editing, mastering the audio and editing and producing your video.
A few years ago all this would have been prohibitively expensive.  Not now. Advances in technology have now made this much more affordable – but you still need the expertise to do it, and this is where we can help.  After many years in the music business, and also in sound recording and broadcasting, we know what we are doing.  This method of LIVE recording won't suit everybody. Because we record your live performances they really should to be as 'right on the night' as possible.  So it helps if you can put on a good live show with few mistakes.  If you feel you can't work like this, then we suggest that you record in the traditional way, using a multi-track recording studio, which we also have.
But, for people who can actually perform well live, then yougig will be invaluable to you and your future career.  You can then have a perfect recording of your live show to promote yourselves with.
About Martyn Baker, founder of yougig
Audio Engineering
He is a highly experienced BBC trained Audio Engineer, working over the last thirty-five years in broadcast quality live and recorded sound. He has worked extensively for recording studios, BBC, ITN, Aljazeera and many commercial media companies in London, Europe, and the Middle East. With substantial experience full-time and freelance, he is able to lead, or work as a crew-member in most types of audio project, from music and speech recording, editing and mixing, to live TV, radio, music, and event productions.  He has worked as primary sound engineer with amongst others; John Peel, Chris Evans, Johnnie Walker, Jonathan Ross, Ruby Wax, Steve Wright, and many broadcast professionals over the years. He is also fully coherent with most advanced audio and media software.
Music Background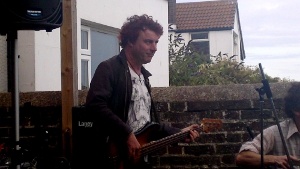 Primarily a bass-guitarist, he was taught from age 14, by respected jazz drummer, Ray Darlison. At 16 he was playing in pub-rock band Steppin' Out, which included the famous delta-blues slide-guitarist, Roger Hubbard, and  world class saxophonist, Wesley Magoogan, who later went on to record sax, for the movie "Breaking Glass", starring Hazel O'Connor. This, his first real band, was produced by ex-Spencer Davis Group and Ian Gillan Band guitarist, Ray Fenwick.
At the age of 18, his next band were The Roaring 80's, who were produced by Tony Visconti at his Soho studio, Good Earth, where Martyn hung out with such luminaries as Marc Bolan, Mary Hopkin, and also Thin Lizzy, who were at the time, putting the finishing touches to their album, "Live and Dangerous", which may well have been dangerous, but it certainly wasn't all live! Other members of The Roaring 80's were guitarist, Keff McCulloch, who later went on to compose music for the Dr Who TV series, and ex-Silverhead, drummer, Pete Thompson, who has always been a respected session player, currently working with Robin Trower.
At 26, Martyn was signed to Polydor Records for £250K with band, Salvation Sunday, and co-wrote the band's first single "Cold Grey Eyes", which was produced by Talk Talk producer, Tim Friese-Greene. Ramones producer, Ed Stasium produced the band's second single "Heart in Motion", and Warne Livesey, (Julian Cope, Midnight Oil), produced the third "Come To Your Senses". A promo video for the band's song "Heart in Motion", was shot and directed by Nick Brandt (Michael Jackson "Earthsong" & "Stranger In Moscow"), and can be seen here on YouTube.
Live shows for Salvation Sunday that Martyn played bass on, included touring the UK & Europe with 80's band, Curiosity Killed the Cat, and Wembley Arena and Birmingham NEC gigs, supporting Level 42.
After a return to broadcasting and sound engineering, Martyn met up with a couple of interesting musical pioneers living in London in the early 90's – American songwriter, poet and music journalist, Debbie Schow, and ex-Virgin Prunes guitarist and founder member Dik Evans (who had a very famous brother – The Edge from U2). They had formed a band – The Screech Owls as a vehicle for their rather strange but fascinating songs. Martyn ended up playing bass (as usual) for them, but also keyboard, banjo, percussion, and helped out in the studio with production and sound FX.
Their best known song was "Desert".
Martyn has since composed music for Sky Sports TV programmes, alongside Brighton guitarist, Leo Hanlon.
More recently, he has been performing live in the Brighton area with STOMP! Founder and percussionist, Theseus Gerard.
Some more of Martyn's music productions
Hickory Signals nu-folk CD EP
Derek Walsh's Brilliant story of Native American Indians helping the Irish during the Great Famine "Trail Of Tears" CD single
Jane Pearce's funky "Triangle" CD single
Mel Tong's rockish "Monster's Ball" CD single
Laura Ward and The Risen Road nu-folk CD EP
Leading Brighton classical composer, Tim Nail's 2011 "Requiem" performed live by The Brighton Chamber Choir, with soprano, mezzo-soprano soloists, church organist, and string octet
All of the World Sacred Music Festival live recordings, made in Brighton, 2008 and 2009 for CD and DVD